The Ultimate Guide To Teacher Appreciation Week for the Super PTO Parent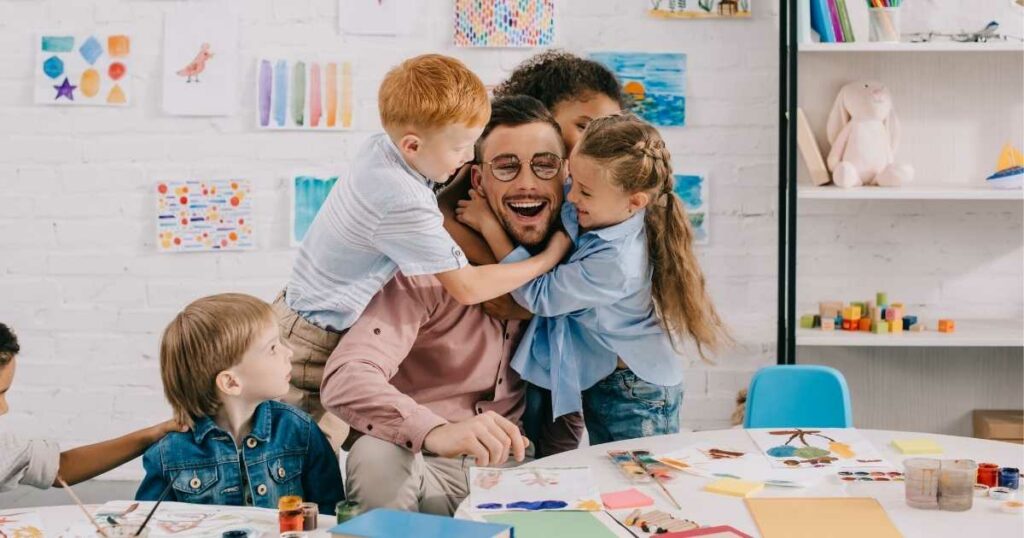 Four Teacher Appreciation Gifts That Will Make This Year The Best Year Yet!
With Teacher Appreciation Week just around the corner, it's time to start planning how you and your PTO or PTA will show the teachers and staff at your school that they are not alone and that their hard work does not go unnoticed. No matter what kind of budget you're working with, there are plenty of ways to make this a memorable week.
Yes, teacher appreciation week is a fantastic opportunity to show your kid's teacher how much you care, but it can also feel a bit like a hassle. What do you get? How can you make it special? And what's the best way to celebrate teachers in your school? We've got you covered. Whether you're planning a single activity or an entire week of teacher appreciation activities—and whether you're new to your role or an old hand—this guide gives you five fantastic ideas for teacher appreciation gifts that are guaranteed to impress the educators in your life. And the best part, these affordable teacher gifts leave a lasting impression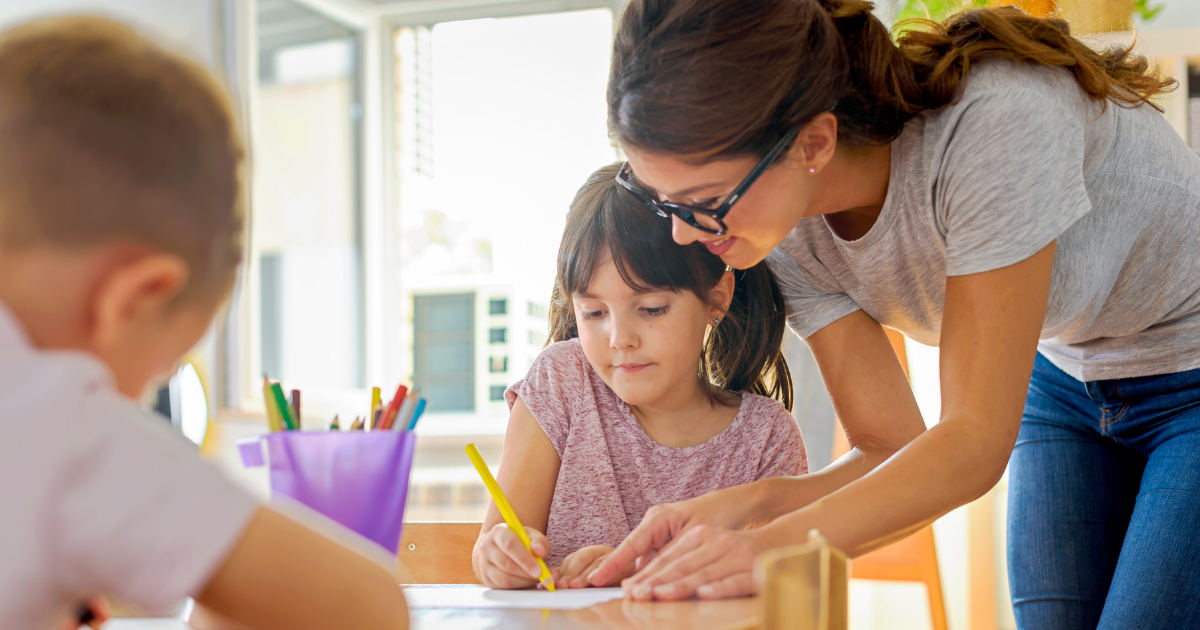 Teacher Appreciation Week: Budget-Friendly & Lasting Impression Ideas
For a 'Tote-ally' unique experience – Begin by choosing our stylish canvas tote bags as a base (and as a present too!) Personalize it with your school logo or mascot, or maybe some words of encouragement in your school's colors. Don't know where to start? Our in-house designers will work to create the artwork of your dreams at no cost to you.
Then, fill your tote with your teacher's favorite items like snacks, books, flowers, or to hit it out of the park, go with a fun and appropriate theme. Here are a few tote bag ideas to inspire your own creations:
Ready-For-Summer Gift Bag
Teacher Appreciation Day is May 12, 2023. Just a few short weeks until Summer Break, and teachers will want to dive right into this custom-made Fun-in-the-Sun tote bag made to carry all the summer essentials. Fill with a fun beach towel, sunscreen, snacks, and a cool personalized cotton t-shirt  or moisture-wicking T-shirt that exudes gratitude for teachers all summer long! Boost your summer gift bag with tickets to an outdoor concert or local water park.
BBQ Dinner Gift Bag
(or Mexican or Morrocan or Italian or any local or international cuisine you desire!)
Pack up all the fixings for a delicious BBQ meal. Think savory marinades, BBQ rubs, zesty sauces, chips, dips, and of course, your favorite BBQ sauce! Make sure your favorite teachers remain spot free, and add a personalized apron into the mix to make this gift extra memorable! Your teachers will have everything they need to make a feast with an adorable cotton apron designed especially for them. They will wear your personalized apron with pride at every dinner event they host!
Cozy, Movie Night Stay-in Gift Bag
There is no better way for a teacher to recharge and refuel after a long school week than a relaxing night at home watching movies with their loved ones. Fill your personalized tote bag with a fragrant candle, a plush blanket, a pretty flower blossom flower tea (or something stronger), and your favorite movie treats. No stay-in movie night is complete without fluffy socks and a personalized pullover or hoodie to keep your hard-working teachers warm as they relax on their couches and binge-watch their favorite shows. Up your game by providing a digital download gift card to this already fantastic tote bag package. Once the temperatures cool down, your teacher will be reminded of your love and appreciation every time they wear this fantastic pullover made just for them. Aaahh – this feels relaxing already.
School Spirit Surprise
Who got Spirit! Your teachers do! This theme basket is for the true hard fans of your school's mission and values. For a closet staple that won't go out of style, a classic jacket with your school's mascot or a custom-made 2023 Teacher Appreciation logo imprinted on the back is the perfect timeless gift. Add treats and useful items like drinkware, pompons, a personalized baseball cap in your school colors to make a colorful impact. This customize teacher appreciation gift will leave a lasting impression See how custom apparel can create a stronger sense of community? If it's time for your school or PTA to give your teacher appreciation day a boost, request a quote from us today.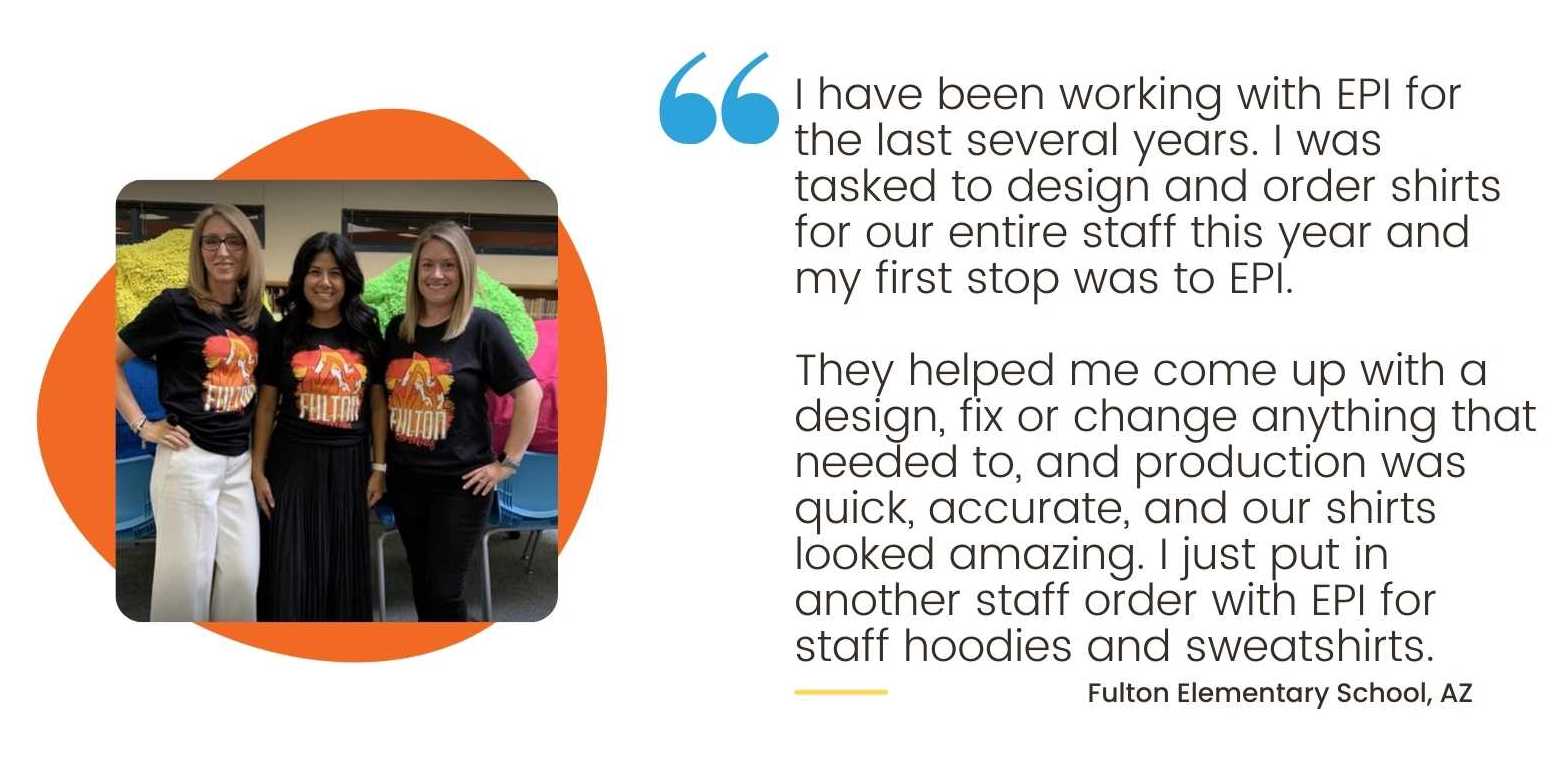 As always, EPI offers free shipping, free design services, and no setup fees. We told you these personalized gifts would be affordable!
When you design your own teacher appreciation gifts, students and parents feel you've truly taken the time to express your gratitude. It's a way of showing teachers that they impact the lives of their students—and it helps teachers feel supported and appreciated in their jobs.
Even if it doesn't feel like there is an adequate amount of money in the budget for teacher appreciation gifts, custom thank you gifts will not break the bank! There's no better way to say "thank you" than giving teachers and staff the gift of personalized, meaningful apparel that they can wear year-round.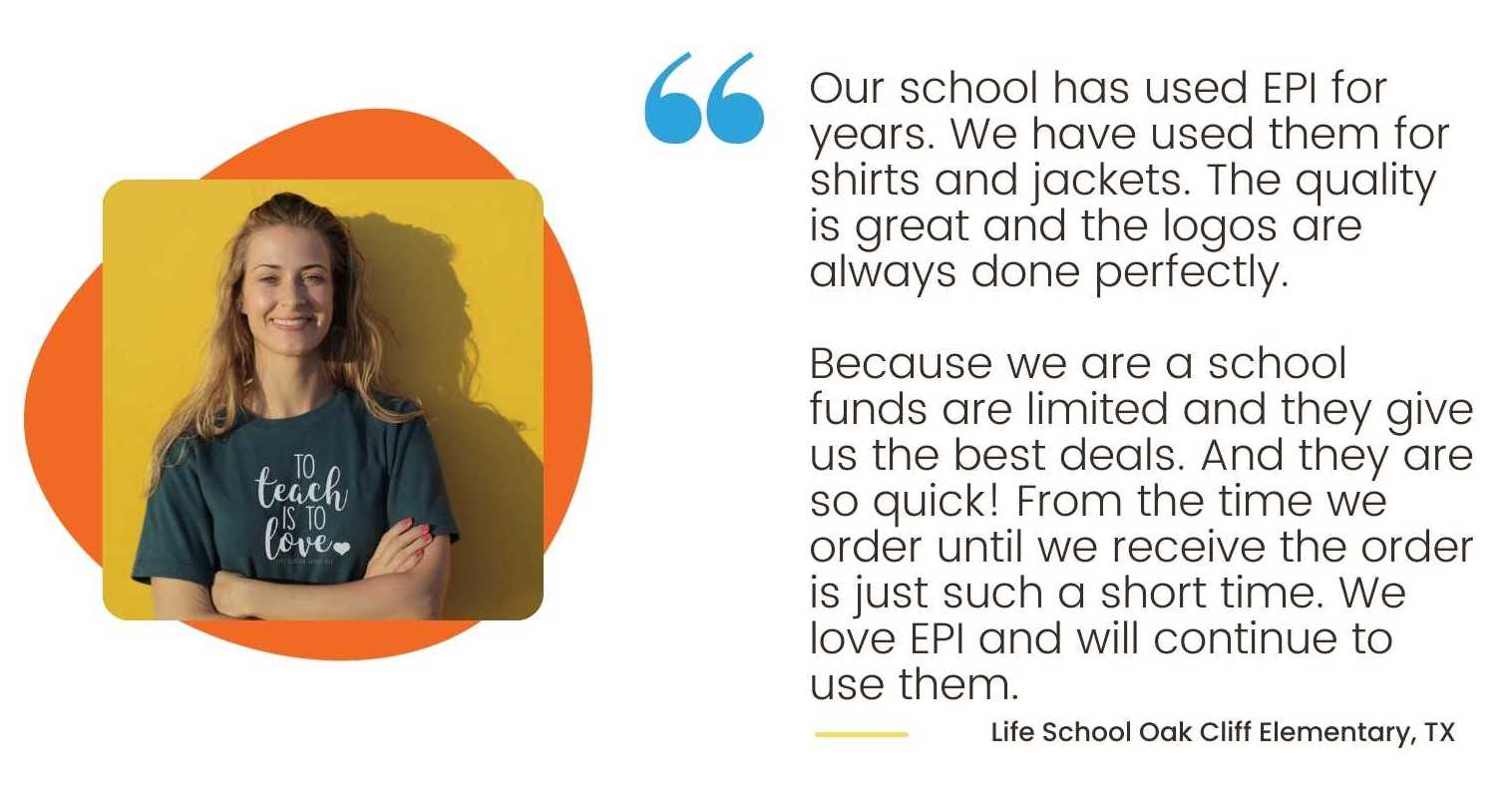 Our team at EPI will help support you through every step. Contact us to get started today.