How to Plan the Perfect Field Day Using Custom Apparel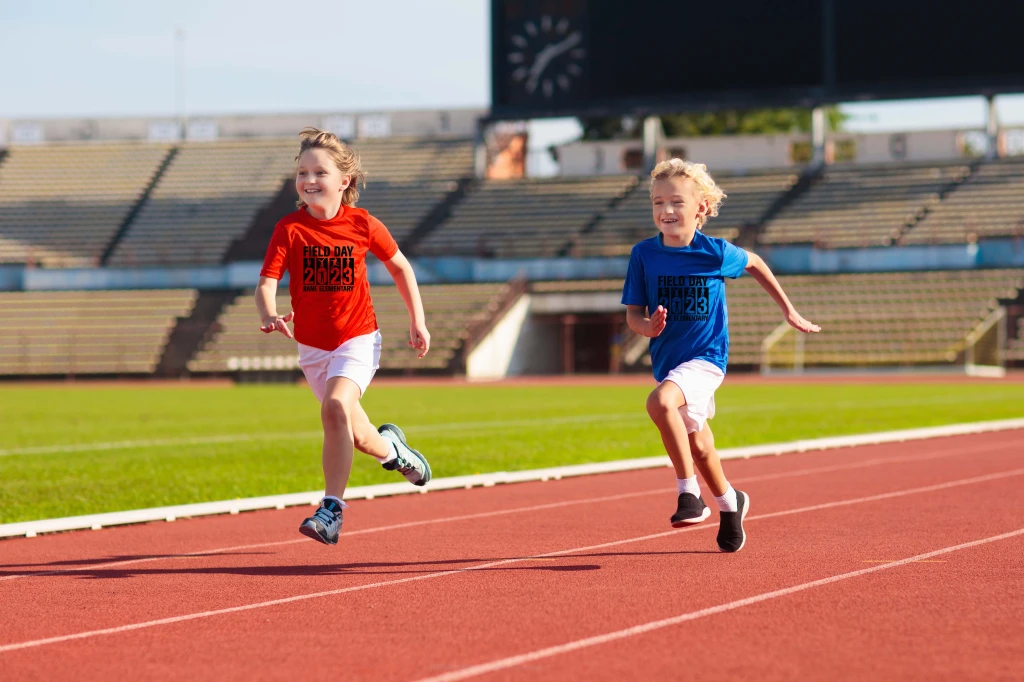 Whether it's your first year in charge or you're a Field Day veteran, everyone can agree it takes A TON of preparation and effort to execute the perfect Field Day event for your school. From planning activities to adapting to weather conditions, from recruiting volunteers to coordinating Spiritwear, Field Day will have you wearing many different hats throughout the process. Here is some crucial information to make sure nothing falls through the cracks and the kids have a blast!
Planning Activities
Deciding how you are going to organize your day will be one of the first steps in beginning to build your event. There are a few common formats to consider, including Track & Field or Festival-styled. But the most popular and our recommendation is the classic Station Rotation format.
The Station Rotation is simple enough, you set up different games around the field and the students begin at a starting position and rotate around the stations. Be sure to remember to include rest and water breaks in the rotations, as well as a lunch break. A good way to plan this out is to divide each grade into groups and create one station per group. Consider using custom t-shirts to color code teams for each grade to help them stand apart and identify each other.
Once you've decided on a format, you are ready for the fun part: choosing games and activities! This is where you can be as creative or classic as you want. Timeless classics, like sack races, obstacle relays, 3-legged races, jump rope, or hula-hoops are always big hits. But you may also stumble upon new favorites by hopping on trends like bottle-flipping relays or creating unique spin-offs of classic games with a twist!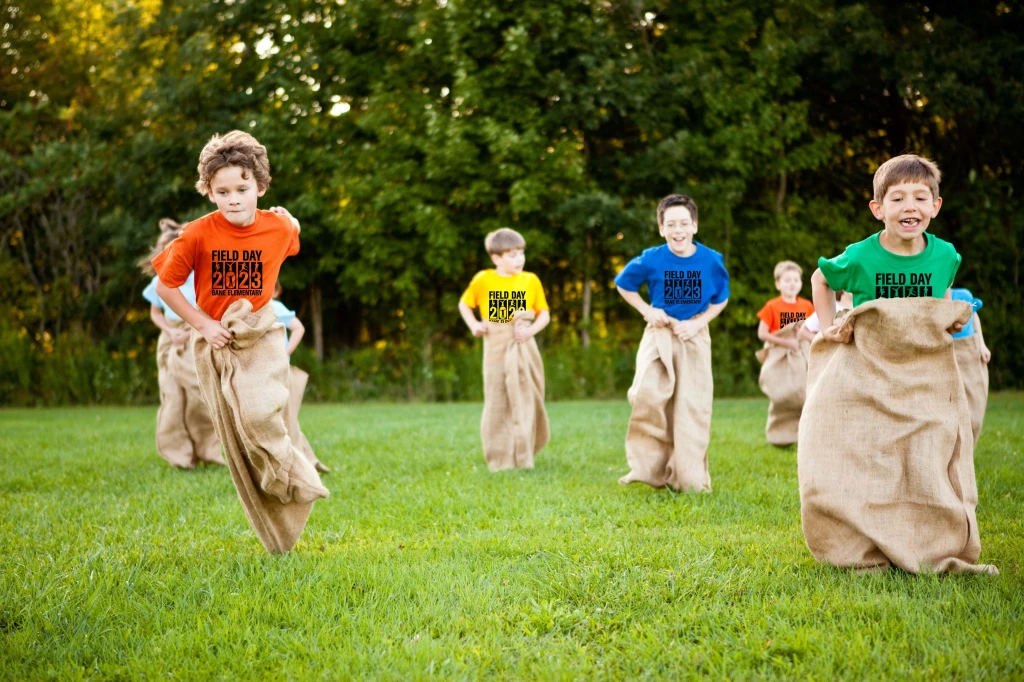 Have a Rainy-Day Plan
Okay, so you've recruited dozens of volunteers and packed the day full of outside fun. Then the rain starts. Are you going to just throw all that hard work away? Of course not! That is why it is so crucial that you always have a backup plan in case of inclement weather.
The key to this is having a large, open location ready to fill in for the now soggy field. Gymnasiums work great for this, and often you'll hear volunteers and students alike praising the indoor field day for the many benefits that come with it – the largest being air conditioning. Theaters, cafeterias, and even classrooms can be transformed into fun stations that provide plenty of room for any activity.
Prep Teachers, Volunteers AND Students
Preparing your students for Field Day is critical to a smooth flowing day, but they aren't the only ones who will be unfamiliar with your systems and plans. Teachers and volunteers also need a good understanding of their responsibilities and how to address any student questions. One way you can help prepare them is to create a resource that can answer any questions or clear up any confusions they or a student might have. This could look like a packet that includes a map of the stations, directions on rotating, a list of starting positions or group members – or maybe even a FAQ section. This will greatly cut down on the number of questions you get bombarded with all day and helps the volunteers be able to answer questions asked of them without having to find you every time.
Field Day is an irregular day, and therefore often can stir up unusually strong, emotionally charged situations for which they are often unequipped to handle. For the children, the excitement of a day full of competition and play can sometimes lead to an imperfect manifestation of that excitement. This could be expressed through poor sportsmanship, disorderly conduct, or inability to properly participate. An effective way to combat this is to practice how we behave when we lose, or a game doesn't go our way. Have them practice shaking hands and congratulate each other and explain to them why we do this after a loss.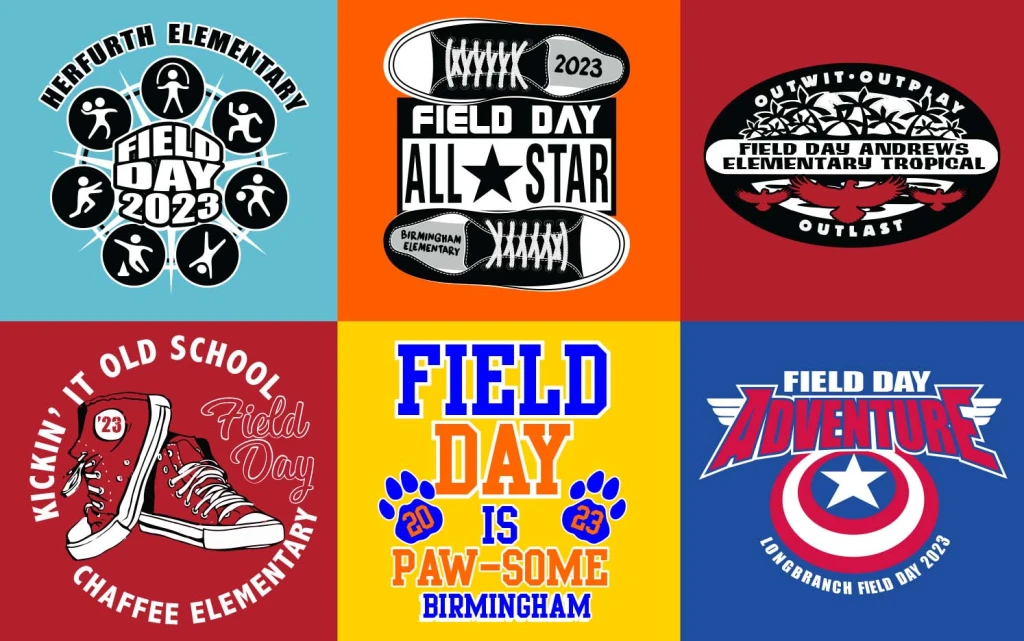 Make it memorable
Field Day only lasts a few hours, once a year. But the memories made in that short time can often last a lifetime. To this point, take a lot of pictures and videos. You can have professional photographers roam the field and take high-quality action shots or just use your phone to capture cute and fun moments. Share these photos and videos with your school online via hashtags on social media or include them in emails to remind everyone of the fun!
And do you want those photos to really pop? Design your own Field Day shirts! Not only will this lend your event to being perceived as more organized and prepared, but it also serves as the perfect memento of the day for every participant and volunteer. Custom t-shirts or other apparel items are easily one of the best ways to engage people with your event and make them feel part of a team.
A large advantage of using EPI for your custom apparel is the ability to use our free custom online store to make your apparel sale a fundraiser. You can set your own prices and use the profits to fund the entire event, donate it charity, or save it for your next year's Field Day! Keep in mind, you should be looking to place your order 4 weeks out from your event to ensure everything runs as smoothly as possible.
Click the link to browse our gallery of Field Day designs! https://site.educationalproducts.com/apparel_category/field-day-play-day/
Our team at EPI will help support you through every step. Contact us to get started today.