School Supply Pack Returns
Thank you for working with EPI for your school supply program.
This page provides you instructions on how to return any unsold packs to EPI.
As always, if you encounter any issues, please contact your EPI rep ASAP. This is so we can resolve your issues quickly.
Downloadable Return Product Form
Note: Save the file on your computer before editing.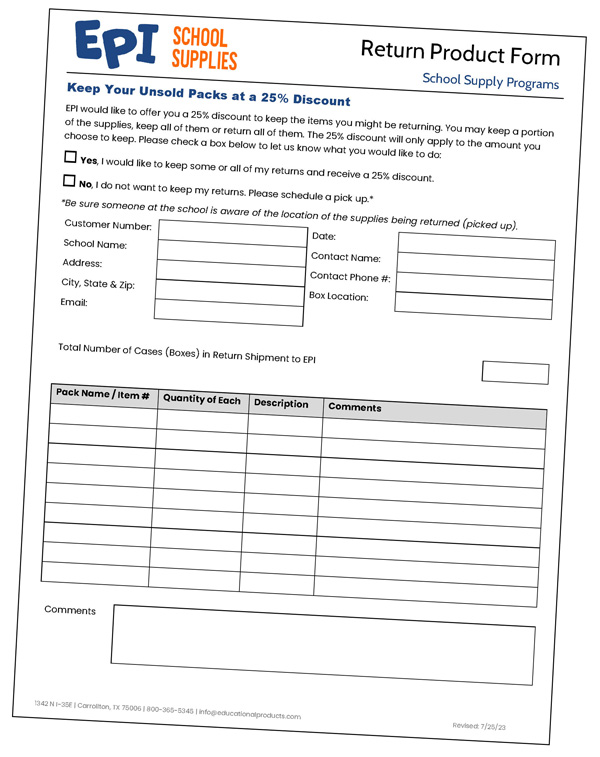 Any unsold School Supplies being returned are subject to the following:
Your return product form must be received by September 15th. If your return product form is received after September 15th you will be charged a 5% processing fee regardless of the amount returned.
No returns will be accepted after October 1st.
You will be responsible for 100% of the freight charges on any returns.
Any customer returning over $750 in product, you will be assessed a 5% processing fee.
Any bulk items not returned with their pre-packs (i.e. binders, paper towels, tissues, etc) will be deducted from your return credit.
NOTE: You do not pay freight charges at the time of pickup. EPI will subtract the freight charge from your return credit. All discounts will be adjusted for any returned school supplies.
Pack all items to be returned in boxes, preferably the original EPI shipping boxes.
All boxes must reflect the following "ship to" address along with your return address:
Ship to:
Educational Products Inc
1342 N I-35 E East
Carrollton, TX 75006
Complete the Return Product Form with your school information, a list of items being returned, quantities and the reason for the returns. Make 3 copies. Distribute copies as follows:
Attach one copy to the outside of one of the boxes being returned in an envelope marked "Inventory."
Email/Fax one copy to your EPI account representative.
Retain one copy for your records.
NOTE: Feel free to make comments where necessary on your return list regarding special circumstances to avoid any confusion or delays.
Your supplies will not be picked up until we receive a copy of your return product form.
When everything is ready, email or call your EPI account representative and advise them that your shipment is ready for pickup. Your EPI account representative will then arrange for pickup.
Once items have been received, a credit will be issued to your account for all items returned less any restocking and/or freight charges.
UPS is normally used with less than five cases and pickup takes about seven days from when you call. Five or more boxes require the services of a commercial trucking company, which usually will pick up within three days. The driver will come into the school and pick up the boxes. Please insure that the school office staff is aware of the location in which these boxes are stored for pickup.
NOTE: All unpaid School Supply invoice balances are due in full on or prior to September 1st. If you are returning product, but have not yet received the credit you are due, deduct your best estimate of the credit and send the remaining balance so that it is received by September 1st.
Questions? Contact Your EPI Representative