Top 10 Reasons To Choose EPI
As a parent group or school leader, you may be considering a school supply program to help your parents save time and money during back-to-school shopping. If you are looking for a reliable, cost-effective program, EPI is the solution for you. Here are 10 reasons why.
1. Parents Save 40% on School Supplies
Parents who buy through EPI's school supply program can save over 40% compared to other online retailers. EPI has the buying power to negotiate the best prices, resulting in significant savings for parents. By choosing EPI, you help reduce the financial burden of back-to-school shopping for parents.
2. Widest Selection of Brands
We have the most extensive inventory of quality, tested items, meaning parents will receive high-quality products that meet their children's needs. Our program allows you to select items and brands based on your teachers' preferences, ranging from the top name brands to affordable teacher-approved house brands. EPI's program provides parents with the convenience of having all their back-to-school supplies prepackaged and delivered to them.

3. 3% Low-Price Guarantee
With the lowest price guaranteed, you never have to compromise the quality of the program to make it more affordable. We offer a 3% low-price guarantee, which means that you will receive the best value for your money. We encourage you to shop around, we are confident we will provide you with the best quality and service for the best prices.
4. School-Year Quality Guarantee
EPI stands behind every item in the pack with their school-year product quality guarantee. This means that we will replace any item in the pack that does not meet the standards of the school or the parents free of charge. EPI ensures that parents receive quality products that will last throughout the school year.
5. FREE Marketing Materials
Reaching busy parents can be tough, so we offer free marketing tools and support to help you promote the program to parents. We provide groups with 8 free tools plus tips to help them get the word out. Our free marketing tools includes take-home flyers, digital flyers, social media images, posters, yard signs, videos, sample packs and emails sent to parents.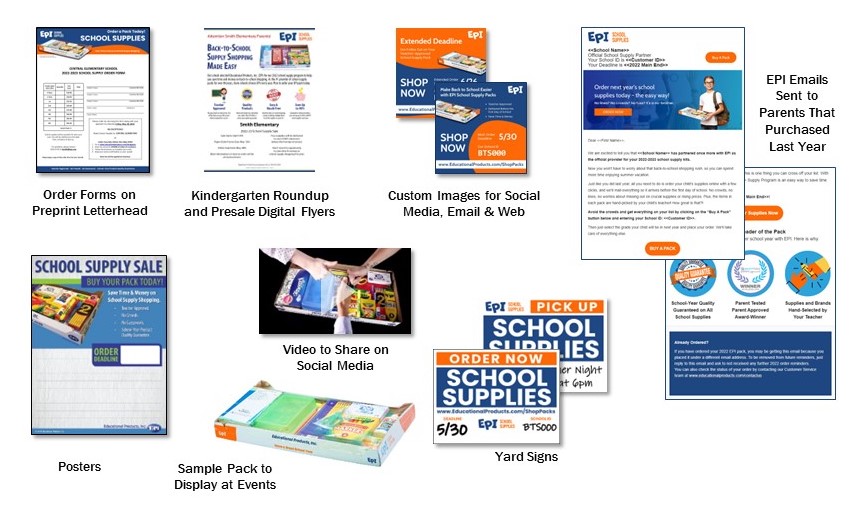 6. Personal Representative
You will be assigned a personal representative to help you every step of the way. You will have a dedicated representative who will guide you through the process, answer any questions you may have, and ensure that you have a smooth and hassle-free experience.
7. Best Packaging
Our packaging process involves placing items in trays and wrapping them with industrial-strength shrink-wrapped film. This method not only provides a professional appearance but also ensures that the contents are secured during transit and distribution. This eliminates the need for one-size-fits-all boxes, as our packaging significantly reduces the space needed for delivery by allowing multiple packs to be placed in a single box. Finally, we go the extra mile by placing the packs in a protective case to ensure your purchase is safeguarded during transit, which is a level of protection that is not provided by the box option. Overall, our packaging process provides a secure and space-efficient solution that ensures your purchase arrives in excellent condition.
8. No Upfront Costs
The program is a risk-free, with no upfront costs. This means that you don't have to worry about investing money into a program before seeing it payoff. EPI provides a no-risk solution, and you can be confident that you're making a smart and safe investment.
9. Great Fundraiser
You set the price parents pay, and if you receive a profit, it goes to your school or group! You have control over the program's financial outcomes and can use the program to raise funds while providing families with value and savings. This means that together we can create a successful program that benefits both parents and the school.
10. #1 Program in the Country
EPI is the leader of the pack with over 1 million packs delivered every year. We have a proven track record of success and can be relied on to provide a quality program for your school. EPI's program provides parents with the peace of mind that their children will have everything they need to succeed in the school year.
If you are interested in starting an EPI school supply program at your school, all you need to do is send in your school supply lists by clicking here. A representative will walk you through how the program works and provide you with a free quote. With EPI, you can provide your parents with a stress-free and cost-effective back-to-school shopping experience that benefits your school as well.
Our team at EPI will help support you through every step. Contact us to get started today.