Email is an Important Marketing Tool to Promote Your Sale
Despite new communication tools such as texting and social media being popular, email remains one of the most effective methods to reach to individuals.
It is important to use a variety of ways to tell parents about your school supply sale and we encourage you to take advantage of all the FREE options from EPI along with additional communication options unique to your school.
Newsletters from parent group or school
Dedicated emails to parents that are only about the school supply sale
Teacher emails to parents
School announcement emails
EPI emails to parents that purchased last year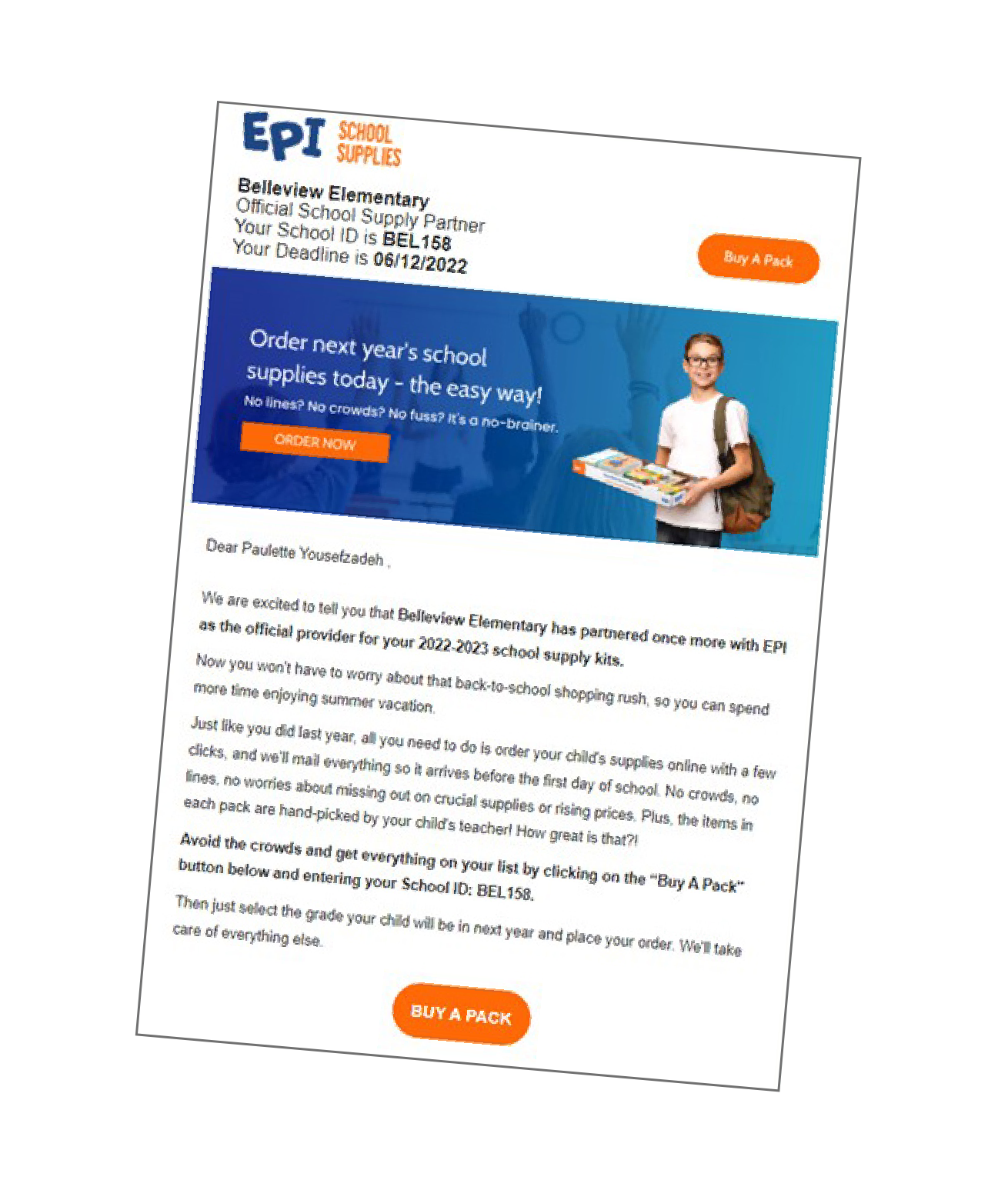 EPI Parent Email Program Overview
You school is automatically part of the program if you worked with us last year.
EPI will send 4-7 emails depending on your sale dates.
 Emails feature school name, school ID and online sale deadlines.
Parents who purchased a pack online from EPI in 2022.
New parents to your school (e.g. incoming Kindergarten parents or newly enrolled students) if you send us a list.
We protect the privacy of those who ordering on the EPI website. Educational Products, Inc. is the sole owner of the information collected on this site. We will not sell or rent this information, nor will we share it in ways different from what is disclosed in our privacy statement. View our privacy statement here.
Who Will NOT Get Sent Emails

Parents that purchased the highest grade pack for your school in 2022 (e.g. 5th grade parents if your school's highest grade is 5th grade).
Parents that purchase in 2023 will be removed after they buy a pack.
Parents of newly enrolled students if you do NOT provide us their list.
Parents can unsubscribe individually if they do not wish to receive any emails from EPI in the future.
If you have questions about the email program, please complete the form above on this page and indicate you want someone to contact you. Exact timing of the emails may vary from the schedule below based on response rate and when your online sale starts.
Main Sale Emails (Up to 4 total)
Sent within a week of your online sale starting.
Sent 15 days before your main sale deadline.
Sent 5 days before your main sale deadline.
Sent 1 day before your main sale deadline.
Late Order Sale Emails (Up to 3 total)
Sent 7 days after your late order sale starts.
Sent 5 days before your late order deadline.
Sent 1 day before you late order deadline.
Don't forget the other FREE tools from EPI and other ways to promote your sale. Successful schools tell us they communicate to parents at least 7 different ways. Many of these tools should be used more than once during your sale.
EPI Provided Tools for FREE
Overview Video for Parents
EPI sent email to parents
*Bilingual versions available
Other Ways to Promote Your Sale
Message on School Marquee
Automated Calls to Parents
Recording School Voicemail
Questions? Contact Your EPI Representative